Canoeing and kayaking
Explore 7 km on a recreational vessel on the Rivière du Loup. A kayak offers you ideal handling to enjoy this waterway as a family or with friends. Back in Summer 2024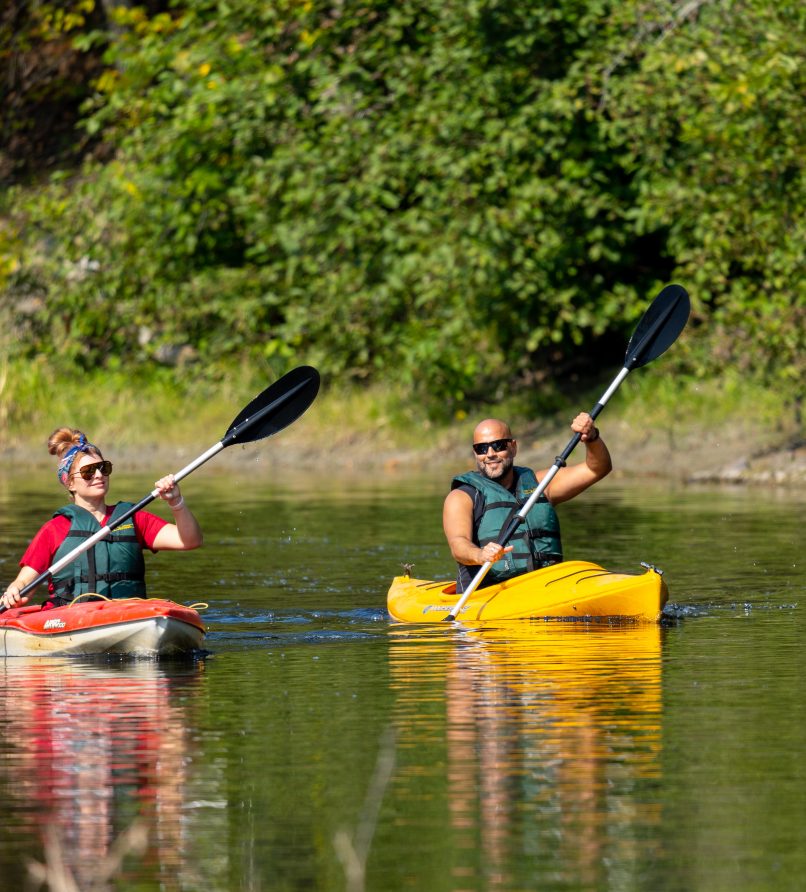 Rates and informations
Guests with accommodation
Trail access and the use of necessary equipment are included in all Baluchon packages.
Outside customers
Single Kayak Rates
2-hour rental: $40*
4-hour rental: $60*
Double Kayak / Canoe Rates
2-hour rental: $65*
4-hour rental: $90*
Life jackets are included in the rate and mandatory during the activity. Access to trails is included in the rate.
*Please note that the rates do not include taxes.
Wearing a life jacket and security rope are included and obligatory for this activity.
What to wear?
Clothes suitable for prevailing weather conditions
In addition, we encourage you to: 
Wear a hat for protection from the sun
Bring sunglasses
Bring sunscreen and mosquito repellent
Bring a re-usable water bottle full of cold water
Conditions of use
For your safety, in case of lightning storms, extreme winds, and other weather-related risks, equipment loans will not be available
Dogs are not allowed on the premises, except for certified service dogs
Picnicking is not allowed on our site or on our trails.
Life jackets are provided on site. Wearing one is mandatory.

Subscribe to our newletter
Tell us a bit about yourself so we can send you customized offers.