Au bout du monde Eco-café
A place that is unique both in terms of its decor and its cuisine, which sets special value on organic and natural foods. Most dishes are prepared with local natural ingredients.
Breakfast served from 7:00 a.m. to 10:30 a.m.

Service from 11:30 a.m. to 4:00 p.m.

A reservation is required for the breakfast and diner.

Enjoy four food combinations from our signature nordic menu, the only one of its kind in Quebec and inspired by local tales and herbal products. Soup, appetizer, main course and dessert.
Opening hours : 5:30 p.m. – 8:30 p.m.
A reservation is required.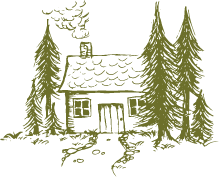 A unique estate !
Le Baluchon is a unique hotel establishment that offers an experience like no other: the eco-resort. Le Baluchon gives you the opportunity to discover and experience unprecedented pleasures, in a way that is respectful of the environment and land, heritage and history.
You will experience the sense of freedom arising from the indescribable feeling that this is time to call your own.

Subscribe to our newletter
Tell us a bit about yourself so we can send you customized offers.